NEWS AND EVENTS

TV Channel 7 came to Santa Cruz de la Cañada Parish
NELSON MARTINEZ is originally from Chimayo and a former student of Holy Cross School. He has produced a beautiful presentation on the history and culture of several churches throughout the United States, highlighting LA IGLESIA DE SANTA CRUZ DE LA CAÑADA.
The wonderfully made video entitled "Churches and Missions" magnificent restorations, hosted and produced by NELSON MARTINEZ, Channel 7 anchorman, will be available for sale and personally signed by NELSON MARTINEZ on Sunday, April 29 after all the morning masses in front of the Church.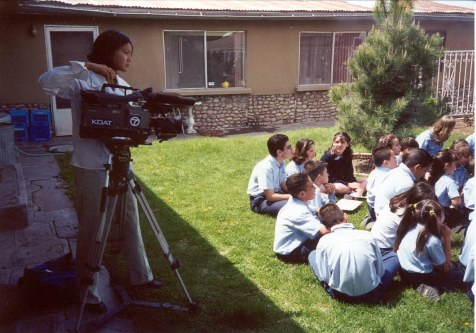 Fr. Ron Carrillo, Pastor of Santa Cruz Church
performing as Fr. Joseph Manyanet
--founder of the Sons of the Holy Family, Jesus, Mary and Joseph--
before some students of Holy Cross School
in one moment of the recording.
Churches & Missions Magnificent Restorations
Hosted by KOAT's Nelson Martinez
In June of 1999, KOAT -TV7 News Anchor Nelson Martinez took four months off to visit a few of the thousands of Catholic churches and missions in the U-S-A.
It is a personal journey which begins with "La Iglesia de Santa Cruz de La Canada" in Northern New Mexico. Both he and his wife Gina, who accompanied Nelson on his journey, attended this church as youngsters.
A few miles down the road is another magnificent church where Nelson was an altar boy. El Santuario de Chimayo was a "must" for this documentary. The famous church is built around "El Posito" where a crucifix is said to have been discovered by his great, great, great grandfather, Bernardo Abeyta.
Two other New Mexican and Franciscan churches are highlighted: The most artistically rendered church in America, San Francisco de Asisi in Ranchos de Taos as well as St. Joseph's Apache Mission in Mescalero, near Ruidoso, New Mexico.
The documentary tells of the featured churches' history including the story of California's "first citizen", Father Junipero Serra, who was sent by Spain to Christianize the Indians. San Juan Capistrano's majestic beauty and history draw visitors from around the world.
Services at Maria Lana Kila in Lahaina Maui on Good Friday and Easter add lively spirit to this presentation. Hawaiians don't forget their culture on such a spiritual holiday...The "Easter Hula" (defended at The Vatican by the Bishop of Hawaii) is danced in the center aisle.
In Newport, Rhode Island, St. Mary's Church tells the story of not only the beginnings of the city's heart and soul, but also where President and Mrs. Kennedy were married.
In San Antonio, Texas, San Fernando is proclaimed to be "the oldest Cathedral in America." It took center stage in the 1980's when Pope John Paul II visited the Cathedral. The Pontiff is seen with the multitudes as he celebrates the existence of the Spirit at San Fernando Cathedral.
The array of "The Stations of the Cross" is diverse: From simple retablos in Santa Cruz and Mescalero, to smoke-darkened oil paintings in San Juan Capistrano. Elaborate sculptures are seen in San Antonio's San Fernando Cathedral.
Interviews revealing insightful stories are sprinkled throughout each church segment. At St. Mary's in Newport, is the silver plaque commemorating pew #10 where Jacqueline and President Kennedy sat every Sunday during their summer visits. The theft of that plaque brought international news.
Of this long anticipated project, Martinez says his four months shooting this video was worth it. "I'm very proud of the documentary. And anyone with the same fascination for churches and missions will certainly find this video a wonderful source for some of America's treasures."
Aprox. 47 minutes

Opening Ceremony Centennial
death FR. JOSEPH MANYANET (Santa Fe, New Mexico)
In January, teachers and students of Holy Cross School participated in a mass celebrated at the Santa Fe Catheral. The mass was presided by Most. Rev. Michael Sheen, Archibishop of Santa Fe. This mass also opened the "Father Manyanet's Year" in the southwest of the USA.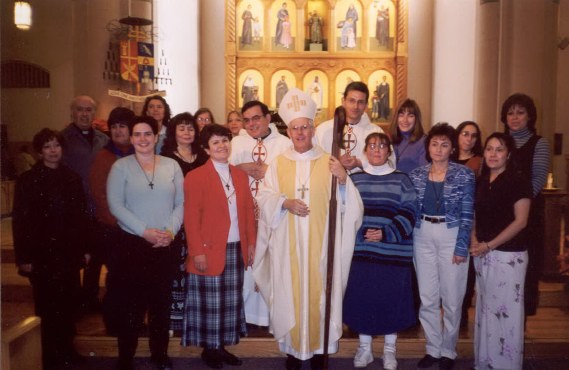 March 4, 2001
50 Anniversary of Priesthood Ordination of:
FR. JOSE MARIA BLANCH, SF.
FATHER JOSE MARIA BLANCH, SF., was born in Barcelona, Spain, on December 26, 1926. His early studies were at a "Christian Brothers" school. He attended high school in Barcelona, "Sons of the Holy Family" Seminary. He entered the Noviciate in September of 1943. He studied philosophy and music in the Seminary, Sons of the Holy Family in Barcelona. He studied theology in Roma at the Lateran University and he studied music in Musica Sacra in Rome.
He was ordained a priest on March 3, 1951, in Barcelona. He studied and served the Seminary, Sons of the Holy Family in Barcelona and Valencia until 1965. During 1965 to 1975 he served as Perfecto de Disciplina in Montepulciano, Italy. In 1975 to 1987 he served as Pastor at Holy Family Church in Chimayo, New Mexico. He also served as Pastor from 1987 to 1995 at Sacred Heart Church in Albuquerque. He has been an Associate Pastor at Santa Cruz de la Cañada since 1995.
He became a United States citizen in 1998. Fr. Jose Maria Blanch, SF. celebrates his Golden Jubilee on his 50th Anniversary to the priesthood on May 20, 2001. Fr. Blanch continues to inspire our Holy Cross students and staff with his gifted musical talent and his warm and caring spirit as he leads all our liturgical services and our school choir.
Mrs. CORDILIA GARCIA
Principal of Holy Cross School