CONTACT US

IN NEW MEXICO:
jgonza50@mixmail.com
or:
Fr. JULIO GONZALEZ, SF.
Santa Cruz de La Canada Church
P.O. Box 1228
Santa Cruz, New Mexico 87567
IN WASHINGTON, DC:
SL3669@aol.com
HolyFamilySem@aol.com
or:
Fr. SEBASTIAN LEE, SF.
Holy Family Seminary
401 Randolph Rd.
P.O.Box 4138
Silver Spring - Maryland 20914-4138
Fr. Julio, SF. and Gregory Redman taking a break after two hours trying to start the web site "Sons of the Holy Family, Jesus, Mary and Joseph, in the USA".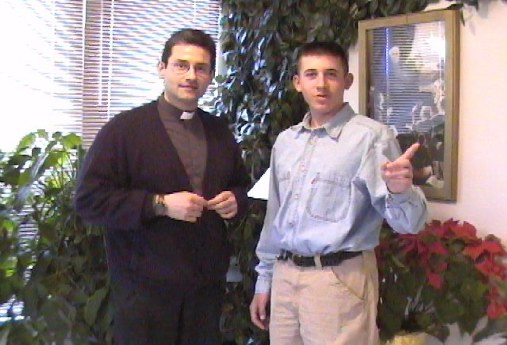 Fr. Julio was ordained priest on May 5, 2000, in Barcelona, Spain. Since October 2000, he is an assistant vicar in Holy Cross Church. He teaches Spanish in Holy Cross School, and is also working with the families of the parish.
Gregory Redman is an alumni of Holy Cross School Elementary, and an Acolyte of Holy Cross Church. He also has been working with Fr. Julio on setting up the computer system for the Holy Cross Rectory, and working on setting up Holy Cross' and the Son's of the Holy Family web sites.