TABLE BLESSINGS

CHILDREN'S BOOKS OF TABLE BLESSINGS is a wonderful collection of original and traditional mealtime blessings for the family written by Ellen J. Kending and illustrated by Phyllis V. Saroff. We here offer you a brief selection.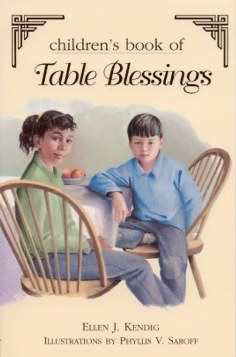 TOGETHER AT TABLE
God of all good gifts,
bless this food,
which fills up our empty stomachs.
Bless our table talk,
which brings us closer to one another.
Bless the events of the day --
good, bad, happy, or sad.
Bless this together time,
which helps us grow in love.
Amen.
GOD TAKES CARE OF US
Father in heaven,
Jesus told us how you care
for the birds in the sky
and the flowers in the fields.
You love us even more
and give us everything we need.
Thank you for the food
that feeds our bodies
and the love that feeds our spirits.
Amen.
PRAYER BEFORE MEALS
Bless us, O Lord,
and these thy gifts,
which we are about to receive
from thy bounty,
through Christ, our Lord.
Amen.
GOD IS GREAT
God is great and God is good,
and we thank him for this food.
By his hand we all are fed;
give us, lord, our daily bread.
Bless our home with peace and love,
and grant in Christ a home above.
Amen.
TRADITIONAL PRAYER
For food to eat
and those who prepare it.
For health to enjoy it
and friends to share it.
Thank you, heavenly Father.
Amen.
LEFTOVERS
Dear Lord,
I cannot tell a lie --
I don't always like food
the second time around.
But I am grateful
just to have food to eat.
And I know it's nice
for the cook to get a little rest.
So thank you for these leftovers --
love warmed over.
Amen.